On Saturday we got a couple of take-out hot dogs from the restaurant Meea's on Colorado Blvd in Eagle Rock. Now – I love a good hot dog, so was happy to hear about this new local hot dog stand near me. Meea's has a small menu, with seven gourmet-style Hot Dogs that come with interesting combinations of toppings, plus a Veggie Dog, and plain jane "Hot Dog and Bun". There are also a few varieties of French Fries.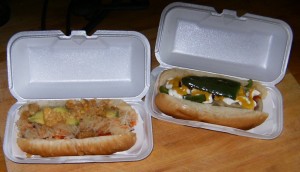 We got two Hot Dogs, then cut each in half so we could both try two flavor combos.
First – the "Eagle Rock" Hot Dog, which comes topped with Spicy Mayo, Pickled Papaya, Pork Rinds, Avocado, and Sriracha sauce. Unusual combination of toppings, I thought this was really, really yummy! This one really hit the spot. I liked the way the different foods blended together into a flavorful taste – the pork rinds had a nice crunch, and there was a small amount of spiciness in there to give this hot dog a little kick. The hot dog itself is plump and tasty, the bun tasted good and held together well for both hot dogs even with all these toppings.
The second one we tried was the "Southland" Hot Dog, and it is a Bacon-Wrapped Hot Dog that is topped with Grilled Onions and Bell Pepper, Ketchup, Mayo, Mustard, and a large Roasted Jalapeno on top of it all. This was like a Los Angeles bacon-wrapped street hot dog in style. It was a very good hot dog too – but my favorite is still the "Eagle Rock" dog – I want another!
Meea's Hot Dogs is a small order-at-the-counter joint, with an outdoor seating area. I am very interested to try all their other Hot Dog gourmet combos – and their Fries too, so will definitely be back.
Website for Meea's Hot Dogs with menu and online ordering.